---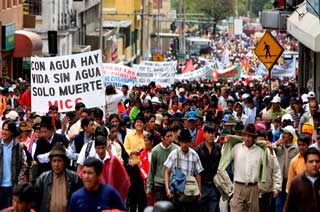 In Ecuador, protesting for the rights of the Earth and trying to preserve natural resources may make you a "terrorist", writes Manuela Picq in Al Jazeera. In Ecuador, "terrorists" are indigenous peoples from the Amazon and the Andean highlands fighting to preserve access to water in their communities. Old penal codes written in times of dictatorship are being revived by leftist presidents to repress indigenous activists. As "terrorists", they are labelled as enemies of the state, and arrested - by the very president that claimed leftist credentials and staged his inauguration in overtly ethnic style. According to Ecuador's Confederation of Indigenous Nationalities, there are currently 189 cases of people accused of sabotage and terrorism by the Ecuadorian government, for protesting the privatisation of natural resources. The situation is so critical that Amnesty International issued a statement denouncing it as an attempt to silence opposition to government policies.
Read full article in Al Jazeera, 10 July 2011.
---
The Pachamama Alliance, in partnership with Fundación Pachamama, empowers indigenous people of the western Amazon basin to defend their territories and cultures.
The Pachamama Alliance was born in response to a request from the Achuar, an indigenous people deep in the Amazon region of Ecuador. The Achuar made the courageous decision to seek a partnership with people from the industrialized world who would work with them in protecting their rainforest home and their traditional way of life. Out of this unique partnership, it has become evident that indigenous wisdom and insight offer enormous value in addressing the complex issues that we face in our modern world.
---
Bolivia's Initiative Leads UN to Organize "World Conference on Indigenous Peoples"
The United Nations General Assembly approved by consensus November 16, 2010, a draft resolution (A/C.3/65/L.22/Rev.1) in which countries agreed to hold a "World Conference on Indigenous Peoples" in 2014, at the end of the Second International Decade of the World's Indigenous People. The resolution calls on Member States and the international community to help find solutions to the problems faced by indigenous peoples in areas including culture, education, health, human rights, the environment, and socio-economic development and expands the mandate of the United Nations Voluntary Fund for Indigenous Peoples to include facilitating the participation of representatives of indigenous organizations in the sessions of the UN Human Rights Council.
[click poster image to see larger size]
---